Idle wanting
Toby sits in the first floor window sill of our bedroom staring intently at the birds, mostly squawking gulls, across the street. Occasionally he will whimper and his tail will bang up and down in, what I imagine, is a
mixture of frustration and anticipation. He's wanting... and wishing.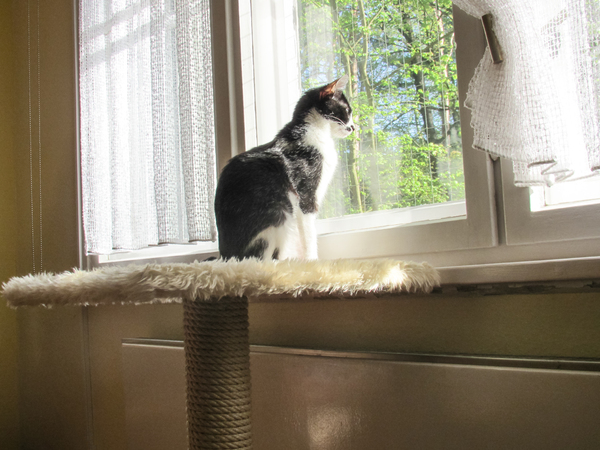 The gulls fly past the window. Nothing in Toby's head connects with the impossibility of his wanting and certainly not the ludicrous nature of this endeavour. He just carries on wanting like the cat that he is, driven by some ancient instinctive part of his brain over which he has no control.
Sound familiar? Idle wanting. We all do it. One of my clients said he wants an Aston Martin. No real reason. He probably likes the shape, the shininess, the cost, maybe has some fantasy hidden deep in his psyche about being James Bond. Now he owns a very nice Jaguar and he's quite happy. He no longer wants an Aston. It was just idle wanting.
Most of us have done this at some point in our lives. Thoughtless and greedy we want more and more...
How many of us have 'stuff' in our houses that we never use – books, gadgets, clothes – purchases driven by idle wanting? Surely it's harmless... No it isn't! Aside from the sheer waste of our money the real cost to us is the unreal nature of our wanting. We turn fanciful wanting into 'stuff' piling up around us simply because of the power of a credit card. This undermines the respect we must have for our money if we are ever to make any progress towards financial freedom. We are literally frittering our lives away on idle wanting. (Have a look at my previous blog
http://www.financiallifeplans.co.uk/2015/03/17/how-much-of-my-life-will-this-cost
for more on this).
The financial life planning process helps us to see what we're doing and to move forward by defining our real needs and our life purpose. This takes patience, effort, persistence and clarity of thought. It is the precise opposite of idle. And most of us won't do it.
We'll sit on the window sill wanting and wishing and feeling frustrated, driven by forces over which we believe we have no control.
What about you?